A Few Words About Us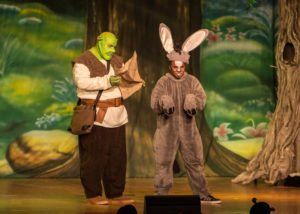 Community theatre has always been popular in the Highland area. Several nearby towns have established theatre groups: Clinton County Showcase in Breese and Looking Glass Playhouse in Lebanon for instance. But, there was none based in Highland. In June 2001, three local community thespians decided that the time had come for Highland to have its own community theatre group. In a matter of a few days, the first production was selected (Steel Magnolias), a theatre facility was reserved (Highland Upper Elementary Auditorium), and a board of directors was established. Local businesses and individuals were contacted for support - and the response was nothing short of amazing. Auditions were held in July and on September 21, 2001 the curtain rose for the first performance of Steel Magnolias and Hard Road Theatre Productions was born.
The group's first success was quickly followed in January 2002 with The Odd Couple which proved equally successful. With the huge success of two plays, the group felt it was time to venture into musicals. Having no air conditioning, the auditorium would not be adequate for a summer production, so Hard Road moved to the High School Kennel and presented Joseph and the Amazing Technicolor Dreamcoat in that unique venue during the summer of 2002. All performances were presented to standing room only crowds. The Kennel would later host classic musicals such as The Music Man and Guys and Dolls and has continued to be utilized in the ensuing years.
In 2004 Hard Road's season expanded to include a youth musical with Schoolhouse Rock Live, Jr. which was met with the same success as all the previous productions and Hard Road has produced at least one youth musical each year since then. Student participation is so great that in 2012 Hard Road began producing two youth productions most summers.
Hard Road was the recipient of generous funding from several different patrons which helped finance the air conditioning at the Elementary Auditorium. This allowed summer productions to be held at this wonderful performance space beginning with Grease in July 2005.
Since that time, Hard Road has continued to support and invest in the improvement of the theatre facilities at the schools. In 2015 Hard Road purchased a new lighting system at the Elementary Auditorium and in 2017 Hard Road paid to have the stage floor at the Elementary Auditorium re-finished.
Over the years Hard Road has been supportive of other community organizations. Hard Road has donated over $6000 to the HACSM Food Pantry. In addition, Hard Road has sponsored events for the Highland PTO and Relay for Life.